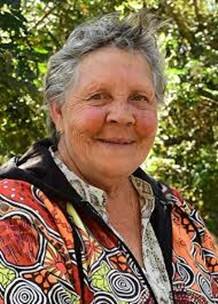 ---
Aunty Yvonne Simms is a Gweagle Bidjigal Elder, a direct descendant through Cooman and Pemulwuy bloodline through Queen Emma Waldran Lowndes and George Timbery.
Born on Gadigal Country in Crown St Women's Hospital, Aunty Yvonne was one of nine siblings. Her parents were both staunch Land Rights activists and travelled with Charles Perkins on the Freedom Rides. Her Mum was from La Perouse Reserve and her Dad a part of the Stolen Generation at Palm Island. When her Dad left the Reserve as a teenager, he went on to become Australia's Lightweight Boxing Champion!
Aunty Yvonne is much beloved in the community and does just about everything to help those around her. Passionate about healthcare, particularly for older people, she volunteers much of her time assisting the elderly with accessing NDIS.
Her role as a Carer saw her working for the Department of Community Service while she looked after her grand-nephew since birth. Her various work in this field won her the NSW Carers Award. As an Elder, Aunty Yvonne has taken up her parents role as an activist and works tirelessly, often performing a Welcome to Country across the region. Her biggest achievement in life is the success of her children whom she is endlessly proud of.
Aunty Yvonne is excited to be a part of Sydney Fringe Festival as she loves the world of theatre and cabaret; she's a self-proclaimed 'fringe-dweller'.